Happy birthday Antonio Bay
134 years old and still terrifying as ever!
April 21st is the anniversary of Antonio Bay, the small sea side town where John Carpenter's The Fog took place. The Fog was Carpenter and Hill's next big motion picture after their huge success of Halloween. The Fog is a classic tale of ghosts seeking revenge and creating complete chaos in this small little coastal village.
I feel Carpenter honestly in his career made a movie pretty much based off every gene. Action, suspense, romance, tragedy, religion, politics, and even drama. With The Fog, this seems like those old ghost stories you hear about pirates going down with their ship, and returning from the grave seeking their treasure. Carpenter clearly used his love of older horror and spun a timeless tale that is not only visually stunning, but a movie that has such a simple overall idea that still holds up today.
I remember renting this movie at the old general store that was up in NH where my parent's summer cottage was. This general store also had a small video store connected to it, and my biggest treat was being able to rent some horror movies to watch on our VCR there. In fact at this very cottage I watched John Carpenter's The Thing for the first time. I remember my mother and father had seen The Fog before and told me how great it was. Watching it with my sister, I still remember how at age 7 I was puzzled by Jamie Lee Curtis and Tom Atkins had a sleepover right after meeting (...)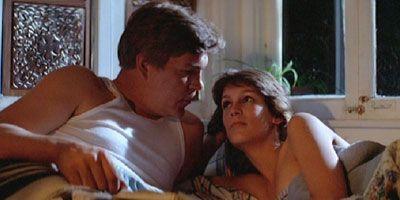 Of course I fell in love with almost every aspect of this film. Carpenter's score was truly one of his best. In fact, I have this score on my iPod and always is so soothing to listen to whenever I'm on a road trip.
I felt Hill and Carpenter were able to make such great films off such simple but very well written screenplays. If you think about it, how simple of a story the original Halloween is. A disturbed mental patient returns to his home town and goes on a rampage killing teenagers. In the Fog, spirits of a sunken ship return to a sea side town 100 years later and kill the decedents of the people responsible for their death. Both of these movies are complete and utter horror perfection. They are elegantly filmed, and still are just as scary as they were thirty or so years ago.
I loved the opening quote by Poe, and the great opening of the old man telling the children of ghost story. In fact the whole first few scenes showing how at the stroke of midnight the whole town begins to go crazy. Loved all the car alarms going off, furniture movie by itself, and things crashing down and breaking. My favorite is when the priest is having a drink in the back room and how he gets up and a huge rock from the wall somehow gets loose and crashed down just where he was sitting seconds ago. Love the music blasting from the radio and the expression on his face. Still gives me chills today.
A big reason why my love for The Fog is so big is the cast. Carpenter seriously knew what he was doing when it came to choosing actors. This is the movie that made me get a huge school girl crush on Tom Atkins. Some girls liked boy bands or guys from Tiger Beat...I fell for Tom Atkins. He seriously is one of the most handsome actors ever in horror. In fact a year after this movie he returned with Carpenter for Escape From New York. And let me tell you...silver fox for sure.
Adrienne Barbeau aka ex- Mrs. John Carpenter looked beautiful as always. Stevie Wayne was a great character in this film as the single mother who works as a late night DJ. I always find radio DJ's fascinating. In fact the first book I wrote one of the main characters is a radio DJ who's station is an old barn silo. I guess you could say I took inspiration from the light house from this movie.
With Hal Holbrook, Janet Leigh are two screen legends along with Leigh's daughter Jamie Lee Curtis Ms. scream queen who blew audiences away in Carpenter and Hill's last effort Halloween. This was one of many horror films Curtis made in the span of a few years early on in his career. This movie I find her the most likable and love how she sleeps with Atkins just shortly after meeting him. (can you blame her?) Not only was she stunning in this movie, I love the old school classic original artwork for the film with her pressing against the door. Looks like a poster for a hammer horror movie!
With some Carpenter regulars, the small town is nicely shaped and you can't help but like everyone. Loved the radio station of course and thought it was great it pretty much only played jazz and big band music. KAB, what a station!
Also the use of the fog. Such a simple idea but works so well. Loved the shot of it slowly coming into the radio station and Stevie watching it circle around her feet. Or when Curtis and Atkins are trying to speed around town in the truck escaping it. I mean how do you escape something that can be anywhere it wants? The creatures themselves when shown were great. The close up of the rotting green flesh with worms was amazing. Still, just the simple trick of using the glowing fog drifting around was great. This was not an expensive trick, but worked wonderfully.
This is a movie that doesn't rely on sex or gore. It's a classic tale of ghosts returning from the grave but still packs a punch. One of my favorite shots are everyone leaving the church with the beautiful score playing and the little boy saying "It's going away." Stevie's warning over the radio, and of course the very last shot of the movie. By far one of the best endings to a Carpenter film ever.
The worst though was the remake that came out a few years ago. The moment I heard Fall Out Boy playing over the soundtrack my heart broke into a million pieces. This was a slap in the face, and just plain lazy filmmaking. As far as I know Carpenter was disgusted by the remake. Sorry, shitty cast, shitty CG. = Fail.
Still with a killer release from scream factory with breath taking new artwork, and the cast doing the convention circuits, The Fog is still a fan favorite.
So Happy 21st everyone and remember...watch out for the fog!