Snow Themed Horror
Snow...what is there to say? As a child it's magical and you absolutely adore it. You love playing in it, you love how it gets school canceled, and you love that it's a true sign that the holidays are coming.
Then a few years later you grow to hate it. Mostly if you're from New England. It's cold, it's a bitch to drive it, you hate shoveling it, you hate scraping you're windshield, you curse and swear whenever you slip walking out to you're car, and most of all...it's just another reminder that summer is very, very, very far away.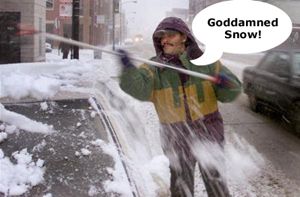 But that's besides the point. Snow can be a love hate sort of thing. In fact if it was up to me I would have it only snow on Christmas Eve and then magically disappear the following morning. I hate to admit thing but I think I'm going to end up being one of those elderly people that flocks down to Florida just like the bird to die in a warm climate. But hey who's judging?
To kick off the first day of December is is my top list of snow themed horror. A snowy night can make the perfect setting for a great horror movie. Not only does it set up perfect isolation, it's also a beautifier way to view blood whenever it splatters in the snow. "Sigh..." I'm all ready feeling the holiday spirit!
Now you may notice some very popular titles are missing from this list that does indeed have snow in them. But come on now, this list would be a mile long of I added every movie that even featured some. Most of the titles that are missing are holiday themed horror movies that will be placed in another list later this month. This list focuses on some truly awesome horror movies where snow serves a very key element to add to the horror.
The Shinning
Dreamcatcher
Iced
30 Days Of Night
Jack Frost
Let The Right One In
Misery
Sometimes They Come Back...For More
Storm Of The Century
The Thing