Day 4 - Fright Night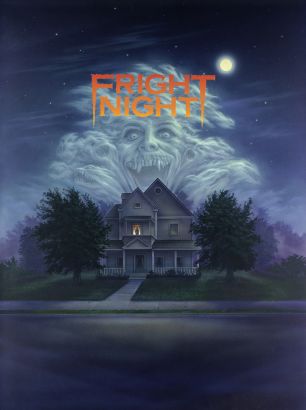 Instead of doing the usual review for my all time favorite horror movie, I decided to simply say how excited I am to meet actor William Ragsdale this month in NJ for Chiller! I have met several members of the original cast, but sadly haven't had the chance to meet the original Charlie who I can't count how many times I watched him battle vampires and ghouls in Fright Night and Fright Night 2. Fright Night was a huge movie in my house growing up. A personal favorite of my late mother's, this movie holds very fond memories for me. With a perfect cast, storyline, soundtrack, and amazing effects I would say even before my beveloved Waxwork movies, Fright Night is my all time favorite horror movie.
This month I'm sure I'll be boreing you all posting photos of when I finally meet Ragsdale. In fact just last week when I first found out he was appearing in this show, me and my friend Jeanette had to call each other to geek over the fact we were finally meeting him. All Zach Galligan lookalike jokes aside, Mr. Ragsdale is in my top 3 people I've still to meet that I seriously think I'll make an utter and complete fool of myself when I see them in person. So tonight I urge anyone to kick back and watch this amazing and very original horror movie that took such simple and classic elements and turned them right on their head. Fright Night is a must to watch, and will wash out any horrible bitter taste you might have after watching that God awful remake/reboot sequel that just came out.
= This photo warms my heart.