The Great Gatsby - A visually stunning dream of literature
PLOT - An adaptation of F. Scott Fitzgerald's Long Island-set novel, where Midwesterner Nick Carraway is lured into the lavish world of his neighbor, Jay Gatsby. Soon enough, however, Carraway will see through the cracks of Gatsby's rich existence, where obsession, madness, and tragedy await.
LOWDOWN - Back in high school we were all given the dreadful task of having to read the classic novel The Great Gatsby by F. Scott Fitzgerald. Of course I struggled reading through it until finally my interest was peeked as I dove deeper and deeper into this strange world created within the pages. Before I knew it I was breezing through the book and ended up loving the very tragic and shocking ending while a good number of other kids from my class just went ahead and watched the 1970's movie. I'll admit, half the time in high school if there was a movie made out the book we had to read...I would watch the movie, but The Great Gatsby was one of those rare pieces of work that I understood why so many teachers felt so passionately about. Years went by and in my senior year I rediscovered my love for actor Ewan McGregor, and of course ended up watching Moulin Rouge! A complete bizarre flashy, dazzling roller coaster musical ride. Director Baz Luhrmann, who had previously done the AMAZING version of Romeo + Juliet (a personal childhood favorite for both my sister and I.) showed his brilliant style and imagination whenever he created this bizarre and beautiful worlds. Of course I went out and got his box set which featured Strictly Ballroom, Romeo + Juliet, and Moulin Rouge! I didn't go see Australia simply because it didn't seem like my cup of tea, nor did pretty much anyone else I talked to. A huge fan of his movies, I loved the way he made all his movies seem like living breathing pieces of art. There was always so much to look at you felt like you were on an acid trip. Time went on and finally I began to hear rumors of the classic novel The Great Gatsby being remade. The second I heard Mr. Luhrmann would be the man behind it...I knew it was in good hands.
I remember first joking nearly two years ago when I heard Leonardo DiCaprio was going to be in it. Now I love Leo, in fact I think he's a downright great actor. He came from being this teeny bop dream after making Titanic but rose above it and moved on clearly establishing himself as a real actor as growing into adulthood. I loved how he took only the roles he liked and lately at least for the past ten or so years I've enjoyed almost every movie he's done. (Inception, The Departed, Django Unchained, ect.) I mean I will forever think of him as accidentally killing grass hoppers in What's Eating Gilbert Grape, but look at how far he's come. I no longer see him as that adorable kid from The Quick And The Dead, or as that asshole screaming "I'm the king of the world!", I look look at him as one of the best actors around who has been cheated out of an Oscar so many times it's not even funny. Still after seeing Shutter Island I love his accents (...)
This is a remake I feel had to be made and hopefully as sad as this sounds might push a younger generation to get off their asses and read the book.
I liked how you could see Mr. Luhrmann's style, in fact when I first watched the trailer last year I legit got excited. I like his use of modern day songs used in a period piece. As many people who didn't like this I feel it helped the movie.
Also the costumes...h-o-l-y s-h-i-t!!! I've always been a huge fan of 1920's/30's fashion, mostly with the flappers (maybe it's because I have short hair.) but I seriously want to go and see this movie again just so I can gaze at all the beautiful costumes, suits, and gowns.
I feel the acting was very strong as well. To be able to translate such an amazing story, you need the right actors. Of course I feel Leo was born to play Jay Gatsby and I feel this might have even pushed aside his amazing acting in Inception. I love how well he played it, and he did it like a complete pro. Even though I sadly don't think this will get him an Oscar, I hope he gains even more respect for this. I seriously got chills by watching him. Great to see him and Mr. Luhrmann come together again after all these years.
I had a good laugh at how much I enjoyed Tobey Maguire in the role of Nick. Nice to see he's still alive after the Spiderman movies. Also fun fact, both him and Leo have worked under director Sam Raimi. Connections!
The rest of the cast shinned and did an amazing job, there wasn't one part I didn't like. Along with the beautifully, visually stunning scenes via the parties, I was blown away. It wasn't crazy over the top but seemed exactly what you expected for this kind of movie. Like I said there was so many things to look at you felt like your eye balls were going to pop out. The amount of tingle, glitter, and sparkles that went into this movie...I shutter to think of the clean up.
The soundtrack was amazing like I said, and the sets breathtaking. Every single thing about this movie was beautiful. They were able to establish a well known story and make it yet again into one of the most heartbreaking and tragic tales every told. Seeing a new take on this made me love the novel even more.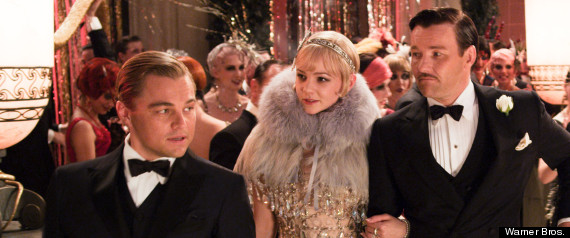 I really to urge anyone to go check out this movie even if you haven't read the book. It's a great movie and so far for the year 2013...my favorite so far.
5 Stars!