To all my friends at Monster-Mania!

Monster-Mania holds a very special place in my heart. Way back in 2007, back when I was a senior in high school I decided to make the trip with my best friend from Mass to Cherry Hill NJ to attend Monster Mania. Just the year before I first became accustom to horror conventions when I went to my first Rock N Shock show. I still clearly remember that trip since it was over February vacation, and they were having a huge Saw reunion. The two main reasons I was going was because Leigh Whannel (who wrote and starred in Saw), and the cast of The Monster Squad were there and I honestly couldn't believe my luck since Cherry Hill is about six or so hours away. I had a complete blast on that trip and made some pretty amazing memories. I came back that summer for their Fright Night reunion show, and the following summer after that for their Nightmare On Elm Street 4 and The Lost Boys show. There I was lucky enough to meet the late Corey Haim.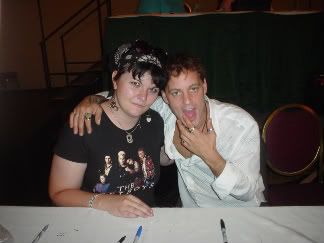 Just last year when I was unable to attend the HorrorHound spring show, my two good friends Andy and Jeanette decided to cheer me up and go with me to the March Monster Mania show. It had been years since I attended a Monster Mania show and I had a complete blast. The amount of duck lips that happened that weekend wasn't pretty.
But I am forever faithful to HorrorHound. I've been staffing these shows since 2010 and I've honestly never met more amazing and cool people, their like my second family and I always have the greatest time there This convention is hands down the best show in the world and I'm crazy excited to attend the show that's less than two weeks away! I was super bummed I was unable to attend the Jamie Lee Curtis show, so the fact I'll be staffing this one, seeing all my great friends, meeting the Christine cast, and of course most likely end up drunk in the hotel lobby...makes me very excited. What's a better way to ring in spring huh? Anywho, since I staff HorrorHound, I usually am unable to attend Monster-Mania now since HorrorHound is so far away. So sadly I won't be there this weekend. It's sorta a bummer since a lot of my friends and people I have met through the horror community will be there, but I'm sure everyone will have a great time, have a few beers, and wake up Sunday morning hungover and very happy. A lot of my favorite artist and vendors will be at this show so I can't wait to read and see everyone's posts/blogs/and photos covering the weekend. I do hope to try and make it for the August show this summer. So to all my Monster Mania friends, have a beer...and have a great time!