Tales From The Crypt - 'Til Death
PLOT - Logan is an unscrupulous gold digger who would do anything to catch the right woman with lots of money, including dabble into voodoo. When he meets Margaret, a sexy and rich widow on vacation, he immediately asks his partner, a voodoo priestess to conjure up a love potion for him which she takes unknowingly, she falls in love with him. How long will she love him for is the question?
LOWDOWN - I personally feel that the second season of Tales From The Crypt was the best in all seven years the show ran. This was an extremely well made season with some serious heavy talent behind it. One episode I find very appropriate for this time of year is 'Til Death. Much like the Monster's episode I reviewed earlier this week The Farmer's Daughter, this is a tale of love beyond the grave.
This is the first in many voodoo themed episodes that aired during it's seven season run. I loved the idea that this complete asshole lets his bad investment become an obsession to him when he finds out the resort he's been backing was built a quicksand covered swamp of an island. After being informed he'll need more money than God to be able to fix the damage, he begins to look elsewhere to solve his problems.
That's when he meets Margaret, the wealthy stuck up sob of a woman who's visiting. Deciding to use one of his thrown aside lovers for some help, a voodoo love spell is conjured to make Margaret fall head over heels in love with him.
Sadly this jerk decides to go a little overboard with how much he exactly gives her which leads to her very sudden death. I crack up every time he kneels by her grave and she bursts from the ground commenting about her nails.
I love how quickly she begins to rot and of course the ending with her skeleton coming after him. This episode was a perfect mix of black comedy, and horror. I loved the island setting and the whole love spell that honestly went past death itself. Great ending which seemed very fitting.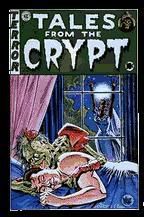 There are many love themed episodes from Tales From The Crypt, one that really comes to mind is in season 3 called Loved To Death. So just in time for this romantic holiday, pop in the second season of Tales From The Crypt and enjoy this twisted love story that goes very well past the grave.